Winter Events and Year End Giving
Enriching Your Community Farm:
Winter Professional Development 
When the ground freezes and it gets too cold for field work, Massaro Community Farm supports professional development for staffers and the wider farming community. This past Friday, December 7, Farmer Becca visited Auer Farm in Bloomfield with The New CT Farmer Alliance  to network with other farmers and providers across the state. Over 100 farmers attended to share best practices and support new emerging farmers in our community of growers!
Farmers Kayla and Alyssa attended the Produce Safety Alliance Grower Training in Haddam last Wednesday, and Thursday, where they learned all about safe agriculture practices under the Food Safety Modernization Act. The two days were filled with great tidbits of knowledge for preventing food-borne illnesses, among other topics.
Winter Community Events
Support Farmers Alyssa and Amy this Saturday, December 15 at the New England Brewing Co.'s Winter Craft Fair! Enjoy the craft beer of farm supporter NEBCO and pick up some holiday gifts from 10:00am-4:00pm at 175 Amity Road in Woodbridge. Alyssa will be showcasing her knitted and needlepoint crafts while Amy will have a variety of items for sale.
Special thanks to New England Brewing Co. for their ongoing support of our annual fundraiser, Dinner on the Farm.
Holiday Jewelry Party
Farm friends Anne and Maria invite you to a jewelry party that will benefit Massaro Community Farm, Sunday, December 16 from 2:00-6:00pm.
Maria has brought pearls from her native Philippines over to Italy to be crafted by expert designers.  They turn these pieces into intricate and unique pieces incorporating pearls and other precious stones. Enjoy this opportunity to mingle while you peruse and purchase a special gift for the holidays. A portion of each purchase will benefit Massaro Community Farm's food donation program.  Open to "making a deal" to boost fundraising!
Refreshments will be served so please be sure to RSVP to Maria Kayne.
1891 Litchfield Tpke, Woodbridge, CT 06525.
2019 Winter Library Series – Save the Dates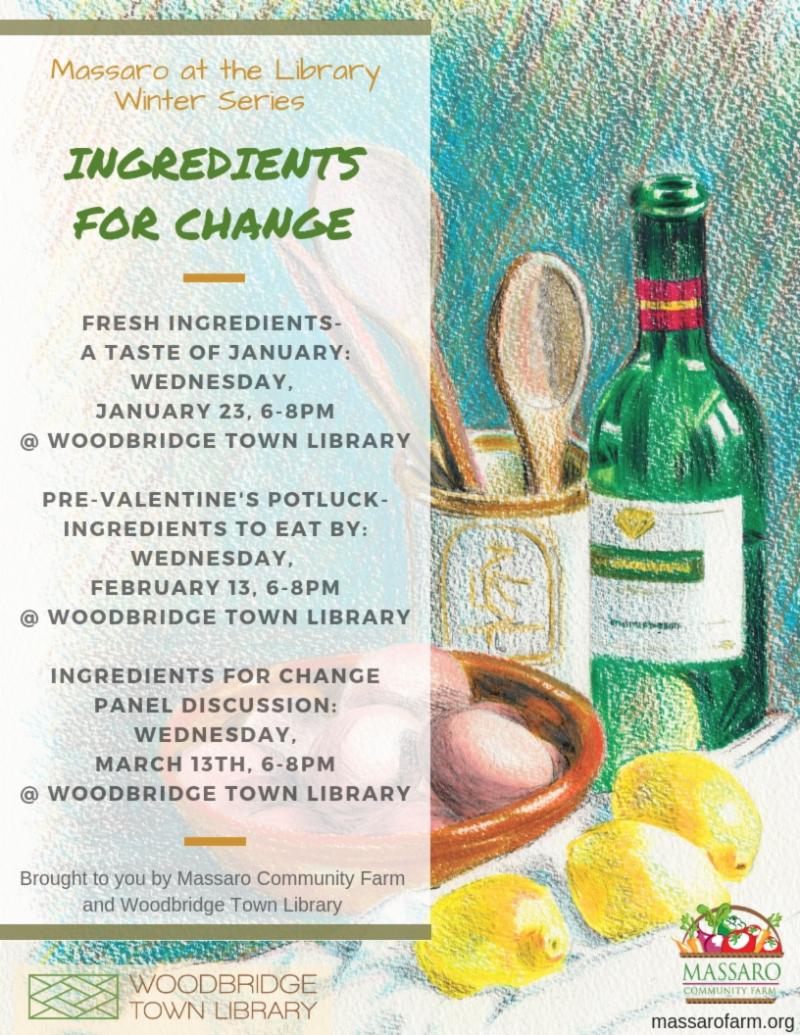 Massaro Community  Farm is partnering again this winter with the Woodbridge Town Library to stay connected with you and your local food movement. All workshops will take place from 6-8 p.m. in the Woodbridge Town Library's meeting room at 10 Newton Road
First gathering:
Wednesday, January 23:"Fresh Ingredients, A Tasting of January," a discussion with local chefs and tasting of 6 different dishes. Event is FREE but space is limited. Please RSVP here or by calling the library at 203-389-3433.
Wednesday, February 13: Pre-Valentine's Potluck – Bring a dish or dessert
Wednesday, March 13: Sustainable Food System Panel Discussion
"Choices for Sustainable Living" Course Launch
Interested in joining like-minded individuals in a collective impact project that will help you make choices to impact a healthier, sustainable Earth? Sign up for the eight-part "Choices for Sustainable Living" course being co-hosted by the Town of Woodbridge's Ad Hoc Sustainability Committee, the Commission on the Use of Publicly Owned Property (CUPOP), the Woodbridge Town Library, and Massaro Community Farm in the new year!
An information session describing this Northwest Earth Institute course, its dates, and an opportunity to sign up and buy the curriculum materials for a discount, will be held on Tuesday, January 8th at 6:30 pm in the Woodbridge Town Library's Meeting Room. The course will begin in February and be offered at two different sets of dates to two groups of up to 15 people each. One group will meet every other Monday from 6 – 8pm without a potluck supper, and the second group will meet every other Wednesday from 6 – 8 pm with a potluck supper. Both groups will meet eight times at the Woodbridge Town Library between February and May. Check out www.nwei.org for an overview of the curriculum.
OrganiCon
You won't want to miss the 37th Annual CT NOFA (Northeast Organic Farming Association) Winter Conference, taking place Saturday, February 23, 2019 at Housatonic Community College in Bridgeport. This premier gathering of farmers, foodies, gardeners and advocates come together each winter to take part in numerous educational workshops. Enjoy a sumptuous lunch prepared by generous local chefs and stock up on a variety of supplies available from exhibitors. Take advantage of early bird registration before December 31, 2018!
Members $45
Non CT NOFA Members $65
Reserve Your Spring Field Trip Today
In spite of the cold temperatures, farm staff is busy planning farm programming for next season, which will be here before we know it! Book your field trip now for field trips beginning in April. Check out topics here. Call the farm (203-736-8618) or email our educational director to reserve a day for your class or group to visit the farm. Fees based on a sliding scale.
End-of-Year Giving Opportunity
Looking to make an end-of-year gift andmake a difference? When you make your tax-deductible donation before the end of the year to Massaro Community Farm, you support responsible land stewardship, feeding the community healthy, organic produce, and making the planet a better place!
Check out our 2018 Annual Report 
here to see our year in review
Volunteer Appreciation Lunch
Last Saturday we held our annual volunteer appreciation lunch.  It was great having a gathering of so
many generous people and being able to express our gratitude for the work they've done.  We truly would not be the farm we are today without the support and help of our volunteers.  Even if you were not able to make the lunch, and have given time to the farm over the years, we hope you know how thankful we are for you.
Thank you volunteers!