'Tis the Season for Good News
Thankful for Our Farm Manager and Staff
Maintaining Our Commitment to Donate 10% of Our Harvest

| | |
| --- | --- |
| | |
| Crates of organic produce destined for CT Food Bank.  | |
With the recent batch of produce picked up at the farm by CT Food Bank, we're pleased to report that we've donated 4,891 pounds of fresh organic produce this season to neighbors in need. While this amount is lower than we've seen the last couple of years, it is a testament to our farm staff that we were able to deliver 10% of our harvest to places like
| | |
| --- | --- |
| | |
| | Farm staff got plenty of treats to keep cool this summer, including melon and ice pops! |
Woodbridge Human Services and Ansonia Salvation Army, in spite of a year of record rainfall and heat. We couldn't have done it without our hard-working and dedicated farm staff who showed up day in and day out.  A special note of gratitude goes out to Farm Manager Steve Munno and his staff: Alyssa, Dan, Kayla, Chloe, Becca, Amy, Dan, and Sydney.
Food Donation Volunteer Shares His Story
| | |
| --- | --- |
| | |
| Operations Assistant Becca Toms and volunteer Tim Drodz at Ansonia Salvation Army. | |
Farm volunteer and Derby resident, Tim Drodz, represented Massaro Community Farm at food donation sites by sharing recipes for using the farm produce with recipients. Below, Tim shares his reflecting on putting fresh, organic produce into the hands of neighbors who otherwise could not afford this quality of food:
"For the people that come to the Salvation Army for food, they need it, no matter what their reason is. For people who have disabling problems, mental or physical, these are certainly people that could use the food. However, you most definitely do not have to have a disability to warrant seeking out food assistance. Unfortunately, life can be disabling for some people and it can be difficult to cope in this seemingly insurmountable world we live in. There is an opinion that people who seek out assistance or that are homeless should go get a job and that will fix their problem. I believe this comes from a misunderstanding of the series of events that can impact an  individuals effort to be self-supporting. For example, one woman I met at the Salvation Army has a husband with PTSD and she has to support the entire household because he cannot work. I also met a man who'd had a career as a chef, and had had a car accident that permanently destroyed his ability to work as an executive chef. I believe what organizations like Massaro do is very critical to supporting the members of our communities who do need help."
Goodwill Volunteers at the Farm
Starting this past April, a career training group from the Goodwill of Western and Northern Connecticut visited the farm a couple of times each week to help clean, perform grounds maintenance and assist with event preparations.
Group instructor Lori Beach shared, "Having the opportunity to volunteer at Massaro Community Farm was a highpoint of our participants' week. They found it to be educational and fun. They enjoyed lending a hand to help the functionality of the farm. They enjoyed working alongside Caty and Becca as they were always informative and encouraging. They appreciated Becca's outgoing and fun personality; and liked to hear her sing. The Massaro Community Farm staff worked in collaboration with the Goodwill participants in learning new skills such as planting, harvesting, weeding, mulching, and using cutting shears. Participants also learned about different insects and how bees help the environment."
It was a pleasure to have this group of volunteers visit the farm each week, always smiling and ready to work, no matter what the chore at hand was.
Melecia said "I loved cleaning the barn."
Tajinae chimed in, "[I} enjoyed putting labels on jars."
Emily, who had a great memory for farm staff names says she "…enjoyed harvesting kale of out of the tunnels so other things can be planted."
Nicole "…enjoyed pulling weeds."
Hard-working and quiet Rashisland said, "Working on the farm taught me how to work with my hands. I learned how to make my own compost."
And Negesti said, "I enjoyed learning how to mulch."
If you attended a farm event this past season, these volunteers were critical to maintaining this space for you to enjoy.
Give to the Farm on #GivingTuesday
we enter the giving season, please consider giving to Massaro Community Farm. With your support, we are able to keep farming 57 acres of formerly fallow land using organic and sustainable farming methods, we feed people through our CSA and food donation programs, and we build community by educating youth and adults alike through enriching farm-based programming all year 'round.
Keep an eye out for our Facebook campaign on Giving Tuesday, November 27!
Do you know about Amazon Smile?
Amazon Smile is an Amazon portal you can shop through, where .5% of your purchase is donated to a non-profit of your choice. Start by shopping through smile.amazon.com and then choose "Massaro Community Farm" as your designation!
Leadership Greater Valley Graduation
| | |
| --- | --- |
| | |
| (L-R): Valley United Way President Sharon Gibson Ellis, Becca Toms, MCF Executive Director Caty Poole, Valley United Way Community Engagement VP Pat Tarasovic, Greater Valley Chamber of Commerce President Bill Purcell. | |
Congratulations to Becca Toms, farm operations assistant, for completing the 8-week Leadership Greater Valley program, combining leadership skill-building with community education to cultivate future leaders of organizations and associations operating in-and-around the Lower Naugatuck Valley.
2019 Winter Library Series – Save the Dates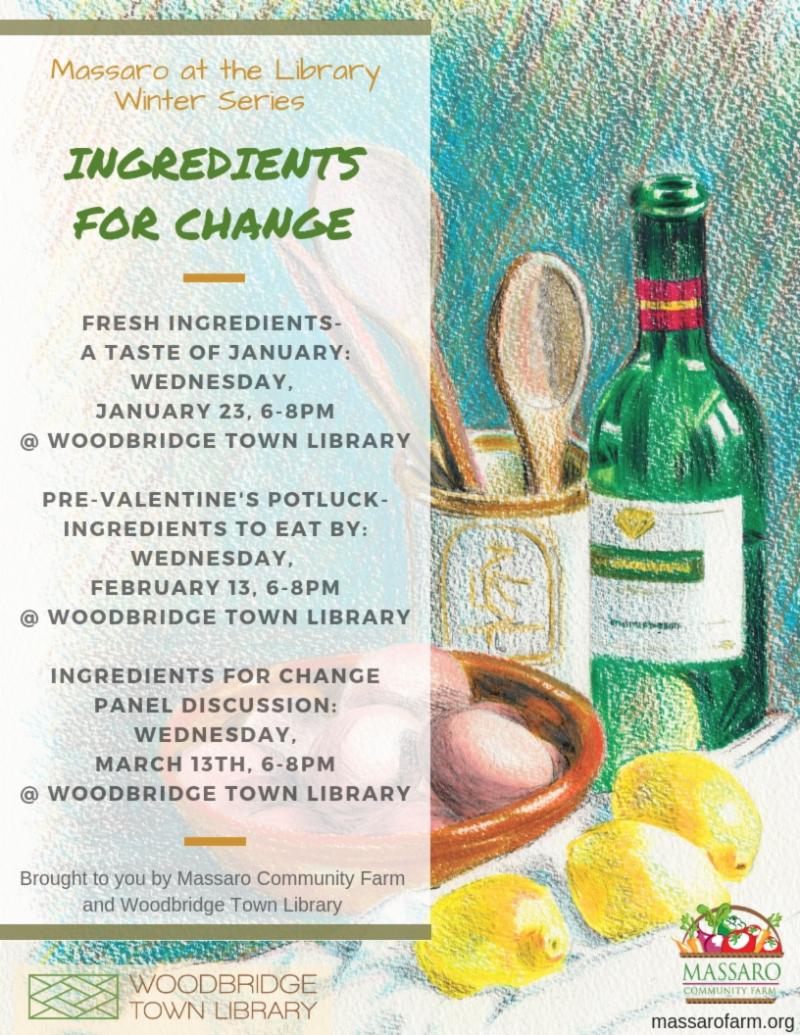 Massaro  Community  Farm is partnering again with Woodbridge Town Library to stay connected with you and to discuss the local food movement. All workshops will take place from 6-8 p.m. in the Woodbridge Town Library's meeting room at 10 Newton Road.
First gathering:
Wednesday, January 23:"Fresh Ingredients, A Tasting of January" – Discussion with local chefs and tasting of 6 different dishes.
Wednesday, February 13: Pre-Valentine's Potluck – Bring a dish or dessert!
Wednesday, March 13: Sustainable Food System Panel Discussion
Reserve Your Spring Field Trip Today
In spite of dipping temperatures, farm staff is actively planning farm programming for next season, which will be here before we know it! Book your field trip now for field trips beginning in April. Check out topics here. Call the farm (203-736-8618) or email our educational director to reserve a day for your class or group to visit the farm. Fees based on a sliding scale.
Check out photos from Emmett O'Brien Technical School's Culinary Program visit in October. Seniors came to the farm on Monday, October 22 and helped with harvesting beets, radishes, and fennel. Juniors came out on Monday, October 29 and helped with planting garlic in the learning garden, mulching our blueberries, and preparing our raised bed gardens for winter! We're grateful to culinary instructor Perfecto Valle for bringing the students to the farm to connect them with local food production.
Looking for a local and organic gift?
Give a Massaro Community Farm CSA subscription
Looking for a way to shop local this holiday gift giving season? Give a CSA subscription! Subscriptions for the 2019 season are now available.
Thank you to all of you who supported our farm with your subscription this past season. If you subscribe (in person or online) to our 2019 CSA before December 1, you get a discounted rate of $650 plus a FREE jar of our green tomato salsa!
Volunteer Appreciation Lunch – December 8
Save the Date! Our annual Volunteer Appreciation Lunch will take place on Saturday, December 8 from 12:30-2pm at the home of one of our volunteers. If you have been a volunteer at the farm this year, please RSVP to Becca via email or by phone at 203-736-1381 and we'll send you the details.