October 28, 2016 Newsletter
A UNIQUE MUSICAL WORKSHOP:
Adventures in SoundPlay with Paul Winter
Friday, November 11, 6:30-10:00pm AND
Saturday, November 12, 8:30-11:30am
We're pleased to bring you a music workshop for beginners, amateurs and professionals! Farm friend and 
Grammy-winning musician Paul Winter
will host
Adventures in SoundPlay
on
November 11 & 12
at Massaro Farm. This unique event is for those interested in self-expression, and will awaken your sense of adventure and the confidence to pursue your dreams, all while supporting your local community farm!
Paul is a lifelong environmental advocate, and has played in over 50 countries worldwide celebrating cultures and creatures of the earth. It is a special treat that Paul will lend us his time and skills for this one-of-a-kind experience at Massaro Farm. Space is limited to 50 registrants, which we expect to fill quickly! $30/pp includes two sessions (Friday evening and Saturday morning). Bring a dish to share at our potluck dinner Friday and we'll supply pancakes for breakfast Saturday morning. 
Get your tickets TODAY! 
*We have a limited number of reduced price tickets available. Please call the farm office at (203) 736-8618 if you or someone you know is interested.
Mark your calendar for a Paul Winter Concert at 5:00pm on February 26, 2017, a culmination of Massaro Community Farm's centennial celebration. Stay tuned for more details!
WOW! RECORD TURNOUTS – Thanks to all supporters!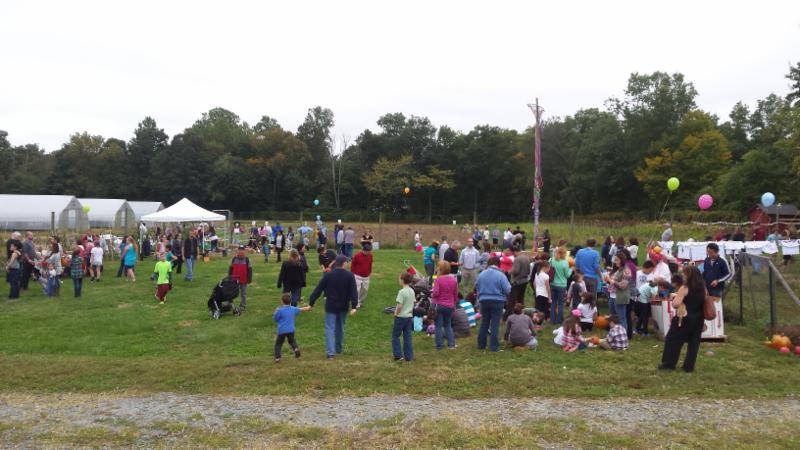 Family Fun Day 2016
Many thanks to all who came out to the farm on Saturday, October 8, for this year's Family Fun Day. Several hundred area residents came to make scarecrows, walk the nature trail, paint pumpkins, and join in the harvest fun, including our pie eating contest! Thanks to all who came out to support us, and especially to the 
Woodbridge Rotary
 for offering free Amber Alert kits to families. Thanks to their efforts, 47 children were added to the national Amber Alert database on Family Fun Day!
We also had more than two dozen adults and kids come out to the farm on October 15th for our first ever night hike & marshmallow roast. The full "blood moon" added mystique to a perfect fall evening for exploring the farm's nature trail in the dark. If you didn't make it, we'll do it again soon.
In the mean time, remember that our nature trail is open from dawn til dusk every day of the year. Park in our parking lot and walk east down the tractor path, past the greenhouse and chicken yard. A sign post marks the entrance to the nature trail and trail guides are available at the entrance.
SOIL HEALTH WORKSHOP AT THE FARM
Healthy Soils: Organic Alternatives 
Looking for ways to adapt to climate change? Join Keynote speaker, Dr. Brandon Smith of NRCS, as he leads a Healthy Soils Workshop onWednesday, November 2, 9:30am-3:30pm on the farm. The day includes a farm tour, equipment viewing and demos, as well as hearing from farmers who've successfully implemented organic practices and conservation tilling. $25/pp.
Register by calling Amanda Fargo-Johnson at (860) 345-3977.
DRAWING AUTUMN'S BOUNTY ON THE FARM
Channel your inner artist and join us for our first outdoor drawing class on
Saturday, November 19 from 1:00-3:00pm
. Learn to see things with a natural eye as you get expert tips from natural science illustrator, Linda Miller. $10/pp. Get more details and
SIGN UP HERE
! Limited to 15 participants. 
Steady rain cancels.

FALL PRE-THANKSGIVING SALE!
We know that after this week, some of you will be sorely missing your weekly
CSA distribution of fresh farm veggies. But you will continue to be able to find Massaro's organic produce at both the Wooster Square (Saturday, 9am-1pm) and Edgewood Park (Sunday, 10am-1pm) Farmer's Markets throughout November.
We'll also be holding a pre-Thanksgiving produce sale at the farm on Saturday, November 19 from 12:00-4:00pm. Stop by to stock up on a variety of vegetables and herbs for your Thanksgiving table.
Looking for a unique gift this holiday season? On November 19th, we'll also be offering Massaro Farm holiday baskets featuring our finished goods and a few other treats thrown in! Get yours while they last!
Returning CSA members who sign up for 2017 before December 1 will get a FREE jar of Massaro Marinara Sauce! 
TASTE THE SEASON
Fall Produce and Pampered Chef Demo

On
November 15 at 7:00pm
, Massaro Farm partners with
Thrive Chiropractic & Wellness
to bring you a fall produce and Pampered Chef demo! We're here to tell you there's still LOTS of great produce you can turn into easy, delicious meals for your fall table. Sample some of these using fresh, organic farm produce while enjoying a Pampered Chef demo, and possibly picking up a gift or two!
Event will take place at Thrive Wellness & Chiropractice, 260 Amity Road, Woodbridge. Please RSVP at (203) 387-5015. FREE; items available for purchase.
YOU CAN JOIN US!
There are many opportunities to help Massaro Community Farm this year.  Whether you're welcoming guests for a workshop or contributing to programming decisions, there's a wide range of opportunities to volunteer at the farm!
– General volunteer interests, please get in touch with Caty Poole through our farm office at (203-736-8618) or via email at
caty@massarofarm.org
.
– Volunteers interested in helping with farm-based events (like the upcoming music workshop) can be in touch with Caty Poole
via email
or by phone at (203) 736-8618.
– Those with a particular interest in the type of programming we offer are encouraged to attend a monthly Education Committee meeting. These generally take place on the 2nd Wednesday of each month but times can vary. Contact education director Robyn Stewart at via email at
education@massarofarm.org
.
– If you have a skill, such as teaching, marketing, outreach, financial planning or graphic design that you'd like to share, please contact ED Caty Poole (see above) for ways you can get involved and support the farm.
Thank you to all our 2016 volunteers for supporting us through another successful season! 
THANK YOU
Many thanks to all those who continue to support us in our effort to KeepFarming, Feed People and Build Community. We would not be here without the many volunteers, board members, staff & donors. We would especially like to thank our sponsors of this year's
Dinner on the Farm
The La Tronica Family (Fair Winds Farm,
Lock Stock & Barrel & The UPS Store)
Southern CT State University
Heritage Capital LLC
Law Offices of Buckley & Wynne
Real Living-Wareck D'Ostillio
The Kayne Family
Nikki Holbrook
Serv-Pro of Milford-Orange-Sratford
A-1 Toyota * Broken Arrow Nursery
Ciola Excavation LLC * Nancy Daoud
Jacobi, Case & Speranzini PC
Ryan & Tyma LLP * Svenden Insurance