No Van, Pop Up Stand 
Friday, November 30, 12:30pm-5:30pm

As you may have heard, earlier this week our van was stolen from the farm. We use the van to deliver produce and attend farmers' markets.  Our market supplies – tents, tables, cloths, banners, chalkboards, display bins, etc. – were all in the van when it was stolen.  With the van and market supplies gone, we will not be attending the upcoming markets at Wooster Square and Edgewood Park this weekend, and likely not the following two weekends, which are the last of the year.  We'll hope for the return or discovery of the van, and will plan to be back at the markets in May of 2019.
Since we won't be attending the market, we'll have our own pop up stand here in our barn on Friday, 12:30pm-5:30pm.  Our offering is limited to some extraordinary bunches of kale, watermelon radishes, a little bit of garlic, and our jars of honey, crushed tomatoes, marinara sauce and green tomato salsa.  
In addition to being able to pick up these items, this is your last chance to take advantage of our Early Bird CSA sign up: receive a discount and a free jar of salsa when you pay in full for our 20-week CSA by December 1.   Receive a free jar of salsa when you sign up for our 10-week/flexible CSA as well.  Check out our CSA Registration Form, sign up online, or join when you come to the farm.
2019 Winter Library Series – Save the Dates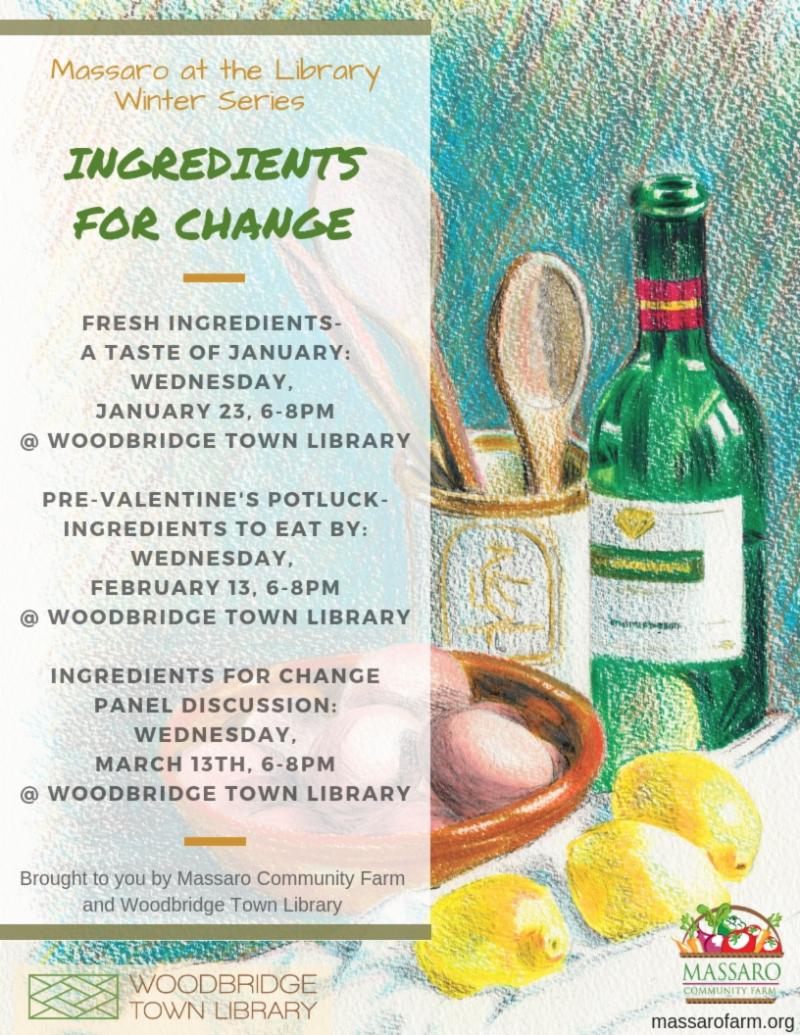 Massaro Community  Farm is partnering again with Woodbridge Town Library to stay connected with you, to discuss the local food movement. All workshops will take place from 6-8 p.m. in the Woodbridge Town Library's meeting room at 10 Newton Road.
First gathering:
Wednesday, January 23:"Fresh Ingredients, A Tasting of January" – Discussion with local chefs and tasting of 6 different dishes. Event is FREE but space is limited. Please RSVP here or by call the library at 203-389-3433.
Wednesday, February 13: Pre-Valentine's Potluck – Bring a dish or dessert!
Wednesday, March 13: Sustainable Food System Panel Discussion
Reserve Your Spring Field Trip Today
In spite of dipping temperatures, farm staff is actively planning farm programming for next season, which will be here before we know it! Book your field trip now for field trips beginning in April. Check out topics here. Call the farm (203-736-8618) or email our educational director to reserve a day for your class or group to visit the farm. Fees based on a sliding scale.
Check out photos from Emmett O'Brien Technical School's Culinary Program visit in October. Seniors came to the farm on Monday, October 22 and helped with harvesting beets, radishes, and fennel. Juniors came out on Monday, October 29 and helped with planting garlic in the learning garden, mulching our blueberries, and preparing our raised bed gardens for winter! We're grateful to culinary instructor Perfecto Valle for bringing the students to the farm to connect them with local food production.
Looking for a local and organic gift?
Give a Massaro Community Farm CSA subscription!

Looking for a way to shop local this holiday gift giving season? Give a CSA subscription! Subscriptions for the 2019 season are now available.
Thank you to all of you who supported our farm with your subscription this past season. If you subscribe (in person or online) to our 2019 CSA before December 1, you get a discounted rate of $650 plus a FREE jar of our green tomato salsa!
Volunteer Appreciation Lunch – December 8
Save the Date! Our annual Volunteer Appreciation Lunch will take place on Saturday, December 8 from 12:30-2pm at the home of one of our volunteers. If you have been a volunteer at the farm this year, please RSVP to Becca via email or by phone at 203-736-1381 and we'll send you the details.