Massaro in Your Community
Charlotte's Web at the Farm
Performed by the Valley Shakespeare Festival
When: Saturday, October 6th 11am & 2pm and Sunday, October 7th 2pm
Where: Massaro Community Farm, 41 Ford Road, Woodbridge
Tickets: Sold out! Feel Free to email if you would like to be put on the wait list.
In collaboration with Valley Shakespeare Festival and with a generous grant from the Valley Community Foundation, we are excited to start this potentially new tradition at the farm. Join us in between Saturday's performances for pumpkin painting and Sunday at 1pm for a scarecrow building contest!
Many thanks to Stop & Shop and Marrakech Inc. for their additional support.
Kids Dig Farms! After School Program
We don't know if kids are allowed to have this much fun, but we're doing it anyways! The after-school program has started off the Fall learning about plant parts, compost, and planting fall crops. Each week brings a new craft and new adventure for the kids. If you would like your young one to join, there are still spots left for you to join the group!
Transportation available from Beecher Road School
Call or email the farm to enroll
203-736-8618 | education@massarofarm.org
Vice President of the Board Honored
Louisa, pictured far right.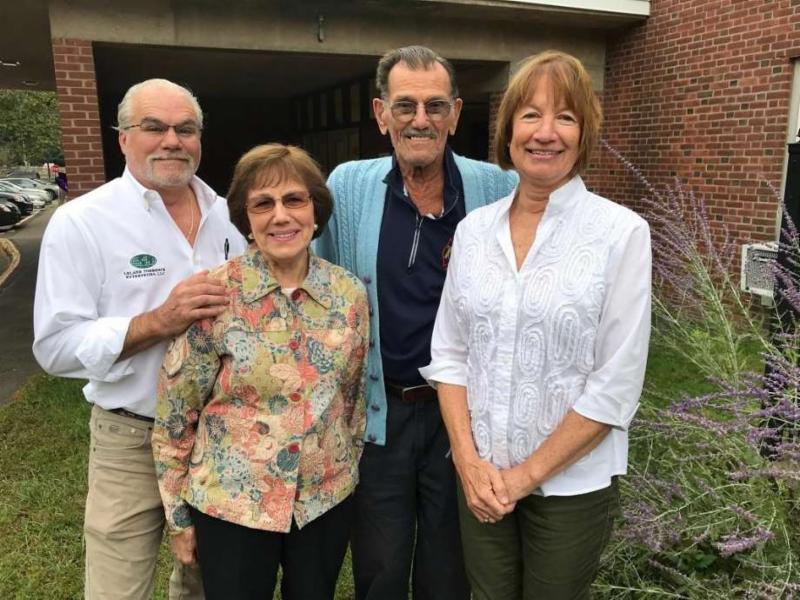 e are fortunate to have many amazing people on our Board of Directors here at Massaro. One of these amazing people is our Vice President, Louisa Cunningham, who was recently honored by Woodbridge Human Services to be a "Living Treasure."
Formerly a deputy director of the Yale Art Gallery, she now spends so much of her energy on the outdoors. Besides working with Massaro, she has also served on town committees, organizations such as Everyone Outside, the New Haven Bird Club, Connecticut Forest and Park Association, the Audubon Society, and the Butterfly Association.
At Massaro, she has been an intergral part of our Education Committee and has done much to help us find ways to students to engage with the outdoors. Without Louisa, and her partnership with the Girl Scouts, we would also not have our Nature Trail, which is a part of the farm she is always improving and advocating for.
Thank you Louisa for all you have done for our community and our Farm. We agree that you are truly a "Living Treasure."
Upcoming Workshops on the Farm
Full Moon Walk
Friday, October 26 at 7:00pm
Celebrate fall and the spooky season of Halloween by joining us for a full moon walk around the fields and woods of the farm. Swap campfire stories and enjoy a s'more or two by the fire afterward. Only steady rain cancels. Email operations@massarofarm.org to be added to the waitlist, as the event is now full. $5 suggested donation
Keep your eyes open for our Winter Workshop series coming soon!
And, save the date, our Pre-Thanksgiving Sale will be taking place on Saturday, November 17 from 1-4pm here at the farm where you can stock up on all the fall veggies you need for your fall feast!
Last Tot Shabbat on the Farm
with PJ Library and Friends
When: This Friday Morning, 10/5, 9:30-10:30AM
Where: Massaro Community Farm, 41 Ford Road, Woodbridge
Who: 2-5 year olds and their grown ups!
What: Sing, dig, and explore to learn about the Jewish values connected to nature and animals. Dress to get dirty and have fun! Story and snacks provided. This week, Shabbat and Taking Care of the Earth and Planet (rain date Oct 12th). Only steady rain cancels!
$5 Suggested Donation
RSVP to Stacey at pjlibrary@jewishnewhaven.org
Fall Field Trips Booking Now
Field Trips: We're now taking bookings for farm-based educational field trips
September through November. Call the farm office (203-736-8618) or email our educational director to reserve a day for your class or group to visit the farm. Fees based on sliding scale.