YOGA ON THE FARM – TODAY!
Top off your first day pickup of CSA with a yoga session in the Learning Garden today!
There will be two sessions to please both kids and adults:
2:30pm – 30-minute yoga session for kids, parents or parents & kids together. Will take place in the farm's Learning Garden just behind the big red Dairy Barn.
5:00-6:00pm – Family friendly late-afternoon relaxation session.  Release the day's tensions amid the flora and fields of our beautiful 57 acres, and enjoy some hot tea afterward.
Each session led by Woodbridge resident, Diane King.
If parking lot is full, please follow signs to park along Ford Street or in the former Hilltop Health Center parking lot, across the street at the corner of Ford Street and Ford Road. 

OPEN FARM DAYS START THIS WEEK!
Open Farm Days, our drop-in sessions to plant, water, harvest and so much more in the Learning Garden will begin this Friday, June 17th, 2:30-5:30pm.
This is your opportunity to introduce your little ones to the joys of growing and picking your own veggies. Use our color-coded tags to learn what's just been planted and what's ready for you to pick!
Tools and gloves provided. Bring a water bottle if you plan to stay for a while.
Open Farm Days in The Learning Garden has expanded this season and will be
every other Friday afternoon
every other Wednesday morning, and
one Saturday a month!
Check our
website
calendar for a full schedule.
A SEASON OF CREATIVITY: Closing Reception 
Saturday, June 18, 2016, 2-5pm
Seven artists – past supporters of Massaro Community Farm – come together with Palette Art Studio (245 Amity Road, Woodbridge) to present to you their unique and creative artworks. All proceeds from sales will be split between the artists and Massaro Community Farm!
Join us at the gallery with a celebration of light refreshments. We'll celebrate the beginning of our seventh season with sales of our produce and sauces at the gallery.
Don't miss this last opportunity to view the work of these wonderful local artists.
Palette Art Studio is a family-run studio with locations in Woodbridge and Cheshire offering art classes to students of all ages and experience levels, and gallery space for show and events. For more information, visit their
website
or call (475) 282-1802.
Stay tuned for a later announcement about plein air painting at the farm with Palette Art Studio!

REGISTER NOW FOR CAMP ON THE FARM!
Register now for summer camp in August or
book a summer field trip
Registration is now open for Woodbridge Rec Camp at Massaro Community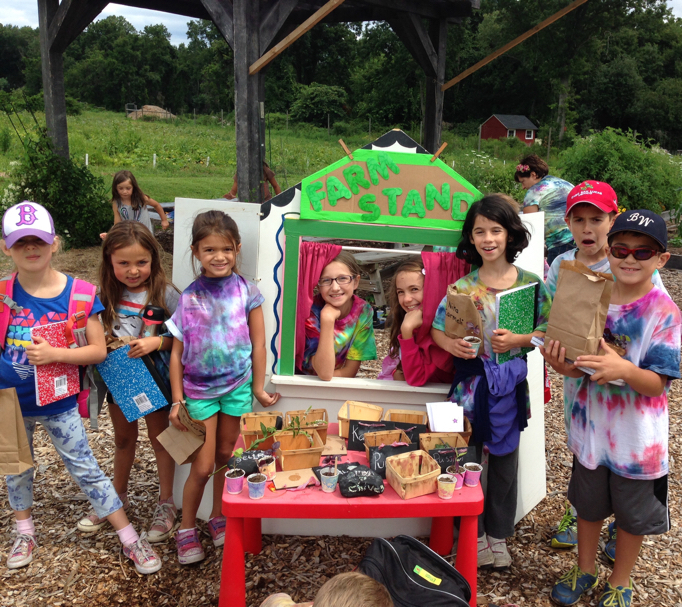 Farm.
Space is limited  so please register early!
Our summer camp program picks up where Woodbridge Rec leaves off with morning half-day sessions for 6-9-year-olds exploring the farm and nature trail.
Week 1: August 8-12
Week 2: August 15-19
We'd love to be able to offer this camp for third week as well, August 22-26. If you're interested in registering your child during this week, please us know by calling the farm office (at 203-736-8618) or making a note on your registration form when you send it in.
We're also booking summer field trips for your camp, home school group or organization. Check for available dates by calling the farm office or checking with Education Director, Robyn Stewart, via email,
education@massarofarm.org
.
WILL YOU TAKE OUR SHORT FIVE-QUESTION SURVEY?
As we grow and mature as an organization, we are continuously working to maintain our commitments to maintain a historic farm, feed those in need and connect with our community.
Please take a few minutes to complete our short five-question survey. Your feedback is greatly appreciated and will help us improve and shape future farm offerings.
Many thanks to all those who continue to support us in our effort to KeepFarming, Feed People and Build Community. We would not be here without the many volunteers, board members, staff & donors. We would especially like to thank the sponsors of the past year's
farm events: 
Dinner on the Farm Sponsors
The La Tronica Family of Businesses (Lock Stock & Barrel, The UPS Store & Wheeler's Restaurant & Tap Room)
Southern CT State University * Law Offices of Buckley & Wynne
Wells Fargo Bank
Heritage Capital * The Kayne Family
Amity Motors * ServPro of Milford-Stratford-Orange
A-1 Toyota * Broken Arrow Nursery
Steve & Roxy Buda * Susan L. Jacobs LLC, Attorney at Law
Gary & Leslie Martino * Ryan & Tyma LLP
Ellen & Robert Scalettar * Cathy Wick & Robert McLean
Family Fun Day Sponsors
Isabella Dodds * Jeanette Kordiak
Dr. Kenneth & Robin Kramer
Pramila Nathan/Int Therapy for Children & Families
David & Judy Skolnick
If you haven't seen it yet, take two minutes to view the short video of our 2015 Dinner on the Farm! Thank you, Pua Ford, for posting this for us!