Notes from the Farm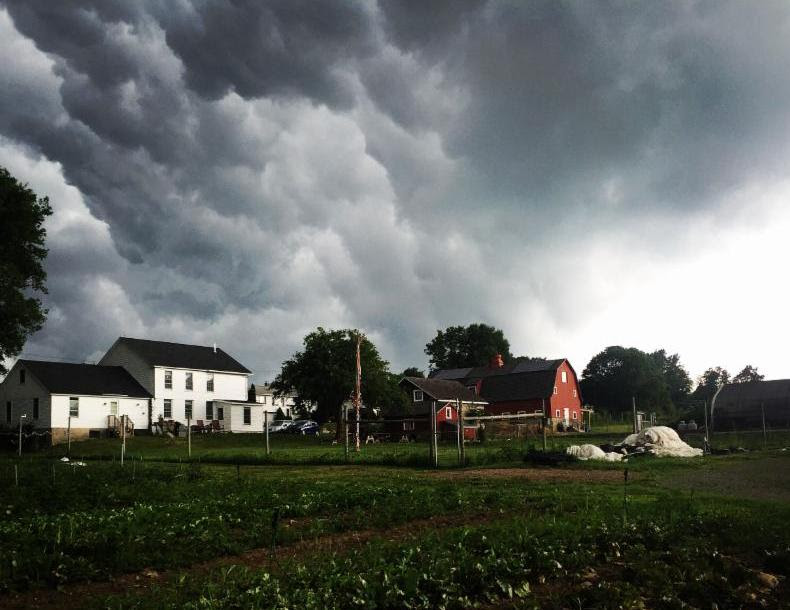 We have had some very welcome rain in the past seven days, getting nearly an inch on  both
Monday
and Thursday last week, and just under half an inch
on Sunday
(check out the photo of the storm coming in
on Thursday
!).  The hot and dry June we just had came on the heels of not-too-snowy winter and last summer's extensive dry spell.  We have two wells that provide irrigation on the farm and a diverse crop plan to help mitigate the environmental challenges inherent in our work.  Still, we greatly appreciate when the rains come in these needed moments, refreshing the farm and farmers alike.
Cabbage family crops are among those that particularly appreciate the cool, rainy conditions, and included from that family in our harvest this week we have kale, salad turnips and a bunch of green and purple kohlrabi.  Not familiar with kohlrabi? No worries. Seen it before and put it straight in the exchange bin without a second thought?  Take it home with you this time around because kohlrabi is truly fantastic.  Here are some reasons why:
It is basically two vegetables in one: crisp and succulent salad turnip on the bottom, kale leaves on top.
The word kohlrabi is German for "cabbage turnip", noting the cabbage/kale like leaves and turnip bottom.
Use the tops and bottoms together or apart.  The possibilities are endless – including pickling the bottoms or making kraut with the tops – and the bottoms will store for many weeks with the tops removed.  See recipe ideas in the section below.
Health benefits: improves digestive processes, aids in weight loss, boosts the immune system, regulates metabolism, increases circulation, strengthens bones, improves vision, and assists in protecting muscle and nerve function.
Your kids will think it's cool because it looks a bit like a UFO or spaceship of some kind and it has a silver glow when you hold it under water.
Trim the leaves off so that you have just the round green and purple orbs remaining and you have before you a set of bacci balls to for a fun game of kohl-bacci  on the lawn…  And you can still wash or peel and eat them after you play!
Do enjoy the kohlrabi and all of the week's harvest.  If you are eagerly awaiting tomatoes
and cherry tomatoes, know that they are coming soon, The plants are filling up with green fruit, and the very first blushes of color are starting to show.
Best,
Farmer Steve and our Farmers: Alyssa, Diane, Tyler, Ed, Genna, Dan, Jocelyn, Jon and Ella
In This Week's Distribution
Our Harvest:
  Green Chard, Kohlrabi, Fennel, Basil, Zucchini and Summer Squash, Cucumbers, Beets, Kale, Salad Turnips, Dandelion Greens, Lettuce
U-Pick: Begins with Cherry Tomatoes soon
Fruit Option: Blueberries
Recipes and Cooking Tips
Fennel:
The bulb at the bottom can be chopped up and added to wide range side salads, green salads and slaws.  Grill or roast slices of the root alone or along with potatoes, chicken, fish or pork.  Add the leafy fronds to any of the above including your salads for a hint of licorice, use them as a bedding to bake or grill your fish on,  add them to your green juice or smoothie, or add them to your vegetable stock.
Weeknight Cucumber-Beet-Fennel-Kohlrabi Salad
Serves 4
Two Beets
1-2 Cucumbers
1-2 Fennel bulbs and fronds
1-2 Kohlrabi bulbs
One small Onion
Oil, Vinegar, grainy mustard, fresh herbs
Salt
Place beets in a pot and cover with water.
Boil for 15 mins, or until they are easily pierced with a fork.
Place beets in a bowl of cold water and slip off the skins.
Slice beets in to cubes and place in the fridge to cool.
Chop cucumbers, fennel, kohlrabi and onion in to thick half-moons.
With an immersion blender or whisk, mix together olive oil, rice or wine vinegar, a dollop of mustard, a handful of fresh herbs (parsley, cilantro, mint, dill, or all four!) plus a pinch of salt.
Toss everything together gently in a serving bowl, allow flavors to meld for 10 mins. Serve, enjoy!

Sauteed Kohlrabi with Onions and Cream
from marthastewart.com
* Cubes of peeled kohlrabi
* Thinly sliced white onion
* Unsalted butter
* Finely shredded kohlrabi leaves
* Heavy cream
* Salt and pepper
* Grated nutmeg
Cook kohlrabi and onion in butter over medium-high heat until almost tender. Stir in kohlrabi leaves, and cook until wilted. Add a generous splash of heavy cream, and cook for a few seconds to reduce. Season with salt, pepper, and nutmeg. Serve with chicken, pork chops, or steak.

Kohlrabi Slaw with Cilantro and Lime
Ingredients:
6 cups kohlrabi -cut into matchsticks -about three 4 inch bulbs (or you could substitute sliced fennel, jicama, cucumber, or cabbage for part of the kohlrabi for more diversity)
1/2 C chopped cilantro (one small bunch)
half of a jalapeno -minced
1/4 C chopped scallion
orange zest from one orange
lime zest from one lime
Citrus Honey Vinaigrette:
1/4 C olive oil
1/4 C fresh orange juice (juice form one orange)
1/8 C lime juice plus 1 T (juice from one large lime)
1/4 C honey
1/2 tsp kosher salt
1 T rice wine vinegar
Directions:
Trim and peel kohlrabi. Cut off two ends. Cut in half from top to bottom. Thinly slice, rotate and slice again, making 1/4 inch matchsticks.
Place in large bowl with chopped cilantro, scallions, finly chopped jalapeño ( 1/2), lime zest and orange zest.
Whisk dressing together in a small bowl. Toss with salad. Refrigerate until serving. Garnish with zest and cilantro.
Fresh Mozzarella and Roasted Kohlrabi Crostini with Crispy Lemons and Shallots
Ingredients:
1 lemon, cut into 1/8″ slices
2 tablespoons confectioners' sugar for dredging
2 shallots, sliced thinly
olive oil for frying
toasted crostini rounds
1 large garlic clove, for rubbing
8 leaves fresh basil
8 leaves fresh rosemary
4 sprigs fresh parsley, stems removed
2 sprigs fresh thyme
pinch of sea salt
1 tablespoon extra virgin olive oil for forming paste, plus more for drizzling
12 kalamata olives, pitted and sliced thinly lengthwise
2-3 roasted kohlrabi, sliced 1/4″ thick
8 ounces ball fresh mozzarella, sliced into 1/4″ thick rounds
Directions:
Rub the kohlrabi generously with olive oil, wrap tightly in foil and roast in a 400 degree oven for 40 minutes or until easily pierced with a fork. Let cool.
Dredge lemon slices in sugar, then fry in hot olive oil until golden brown, about 45 seconds per side. Remove from pan and drain on a paper towel.
Saute shallots in olive oil, stirring often until crispy and golden, about 5 minutes. Drain on a paper towel.
Rub crostini rounds with garlic clove.
Chop herbs finely with a pinch of sea salt and add olive oil to form a paste. Spread paste on garlic-rubbed crostini rounds.
Place olives and sliced, roasted kohlrabi on top of herbed crostini rounds and top with fresh mozzarella rounds.
Place crostini under broiler until mozzarella is golden and bubbling. Remove from broiler.
Top each mozzarella round with one crispy lemon slice and crispy shallots. Drizzle with olive oil and serve immediately.