Notes From the Farm
"Heavy" is probably the best adjective to describe conditions on the farm over the last week or so:  heavy heat, heavy humidity, heavy raindrops, heavy thunder.  Happily,
"heavy" has also been a good description of the harvest, as we have brought in heavy loads of tomatoes, zucchini, summer squash and sweet peppers.  We'll plan to continue on with the heavy harvest of these crops this week and look forward to the prospect of doing it with a break in the heat and humidity in the forecast.
This week we add our garlic to the distribution, which has had perhaps the longest journey of our crops from planting to harvest.  We planted our garlic cloves in the ground last October, harvested the scapes for you in June, harvested the heads in July and let them cure in the greenhouse for a couple weeks.  That is nearly 10 months in the making for the garlic we present to you!  It is especially delicious garlic to be sure, so do savor it as it sizzles in the pan or roasts in the oven, and perhaps joins your own freshly made salsa or tomato sauce.
Dinner on the Farm – Get your tickets today!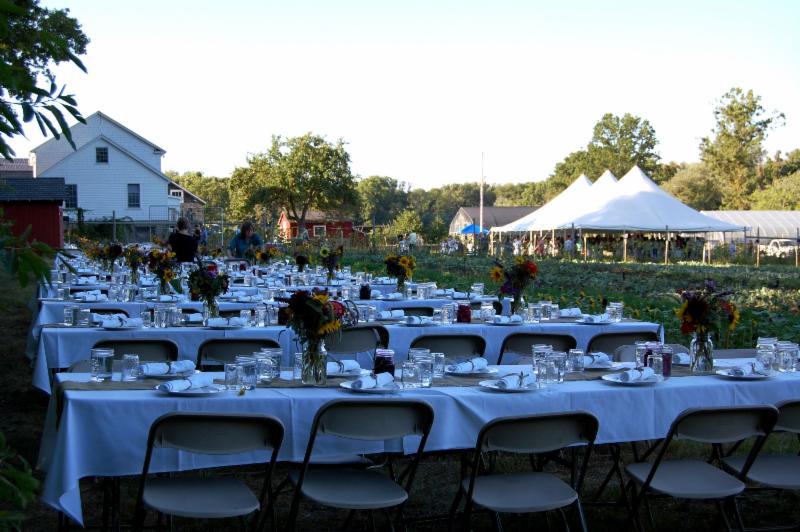 The annual Dinner on the Farm is set for Sunday, September 4, and tickets are on sale now.  This year's event will be extra special as we celebrate 100 Years of Farming here, as the Massaro family began the farm back in 1916.  In addition to the fantastic menu masterfully prepared by Chef Denise Appel of Zinc Restaurant in New Haven, local beer, wine and specialty cocktails with Massaro grown ingredients, we will have historical artifacts of the Massaro family, videos, student-created art, raffle, silent auction and a tour of the farm.  Dinner on the Farm is a wonderful, delicious event, and an important fundraiser to help realize the Massaro Community Farm Mission: Keep Farming, Feed People, Build Community.   Purchase tickets online, send in a check to our farm address, or buy tickets at the farm when you come for your produce; $175 per person.   We hope to see you there!
Best,
Farmer Steve and our Farmers: Alyssa, Tyler, Ed, Genna, Jocelyn, Jon, Ella, Marion, Briana and Diana
In This Week's Distribution
Our Harvest:  Garlic, Onions, Tomatoes, Eggplant, Sweet Peppers, Mixed Hot Peppers – Cayenne, Jalapeno, Hot Wax; Zucchini and Yellow Squash, Cucumbers, Carrots, Lettuce
U-Pick: Cherry Tomatoes
Fruit Option: 'Milton' Apples
Recipes and Cooking Tips

Classic Roasted Salsa 
2 large tomatoes (1 1/2 pounds)

1 medium white onion, halved

3 jalapenos

3 garlic cloves, unpeeled

3 tablespoons fresh lime juice (from 2 limes)

Coarse salt and ground pepper

1/4 cup chopped fresh cilantro
Heat broiler, with rack in top position. Place tomatoes, onion, jalapenos, and garlic in a single layer on a rimmed baking sheet.

Broil until vegetables are blistered and slightly softened, rotating sheet and flipping vegetables frequently, 6 to 8 minutes (garlic may need to be removed earlier, if it is browning too quickly).

Discard garlic skins. In a food processor, pulse garlic and vegetables until coarsely pureed. Add lime juice, season with salt and pepper, and pulse to combine.

Transfer salsa to a bowl and stir in cilantro. Refrigerate up to 3 days, freeze up to 3 months.
Farm Fresh Tomato Sauce
from italianfoodforever.com
Makes About 2 1/2 to 3 Cups; prep time 20 mins,cook time 25 mins
Ingredients:
4 Tablespoons Extra Virgin Olive Oil
3/4 Cup Finely Chopped Sweet Onion
2 Cloves Garlic, Peeled & Finely Minced
2 1/2 Pounds Prepared Ripe Plum Tomatoes (See Notes Above & Photos)
Sea Salt & Black Pepper
1 Bunch (About 10 Leaves) Fresh Basil, Minced
Directions:
Bring a pot of water to a boil.
To prepare the tomatoes, cut an X into the stem end and drop them into the boiling water for 2 to 3 minutes or until you see the skins begin to slip off.
Transfer the tomatoes to a colander in the sink and run cold water over them until they are cool enough to handle.
Use a small, sharp knife, and peel off the skins and cut in half.
Cut out the small core and then use your finger tips to scoop out most of the seeds.
Cut the tomatoes into thin strips or coarse dice.
In a saucepan, heat the olive oil over medium heat until sizzling, then cook the onion, stirring often, until it is soft and translucent.
Add the garlic and cook a minute or two just until fragrant.
Add the tomatoes, salt and pepper, and half the basil, and simmer for about 20 minutes or until the sauce has thickened.
Stir in the remaining basil, and use to top your favorite cooked pasta.